Take control of the air you breathe with a simple, affordable technology solution.
Airthings For Business Ecosystem
Airthings API
Readily access your device and sensor data through the REST API or subscribe with the webhook.
Wave Mini
A supplementary wirelessly connected battery operated sensor, designed for use in reduced occupancy areas and subterranean spaces.
Airthings Dashboard
View, compare and monitor your sensor data in real time, setup alerts and create management reports.
Hub
Connect up to 30 sensors through the Airthings Hub, a long range low power wireless data smartlink.
View Plus NEW
The latest edition to the Airthings sensor family, a wirelessly connected ultra low power sensor giving the most comprehensive monitoring of indoor environmental conditions.
Wave Plus
The first wirelessly connected battery operated indoor air quality sensor with radon detection, designed for all indoor spaces.
How it works
Survey
Deploy
Monitor
Analyse
Optimise
Design your air monitoring solution to meet your exact needs
Our air quality team will guide you through the process and help you plan the optimal solution for your indoor space
Wireless standalone solution allows quick and easy deployment
Plug & play battery powered sensors positioned in agreed locations throughout your building, connect with the Airthings Hub via a long-range wireless SmartLink
Real time data and visibility of air quality in all your indoor spaces
Get an overview of all rooms, floors, and locations. Receive automated alerts when conditions change, and monthly reports to provide useful insights
Live and historical data on demand 24/7
Observe trends, compare current values with past measurements, and identify incidents that correspond to activities. Run historical reports to mitigate risks and evidence safe indoor spaces
Optimise air quality and indoor environmental standards
Use occupancy patterns and live sensor data to determine the optimal times to operate your building's HVAC systems. Reduce indoor environmental complaints and improve energy efficiency
Free indoor air quality health check
See for yourself what's in the air you breathe and how healthy your indoor environment is
Find out more
Airthings For Business in Action
In Offices
No.2 City Walk, Leeds
Indoor environmental monitoring using smart sensor technology from Airthings, providing healthier working environments for building occupants.
Coming soon
In Retail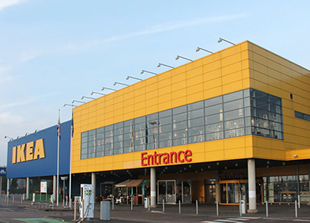 IKEA, Birmingham
Monitoring indoor air quality data in real time to assess the impact of COVID-19 secure ventilation requirements throughout IKEA'S Birmingham store.
Coming soon
In Public Spaces
Serpentine Galleries, London
Improving biosecurity in the office spaces and meeting rooms of the world famous Serpentine Galleries, with the raise of smart air cleaning technology.
Coming soon
Previous
Next
Contact us today for a deeper understanding of how the Airthings For Business solution can benefit your business or organisation.
Contact us